BLACK MARTIN
Not for the faint of heart, Black Martin is a curator of uniquely styled products and creator of one-of-a-kind items for the haunt community and fans of horror, oddities, and the macabre. Here, you can find what grips your soul.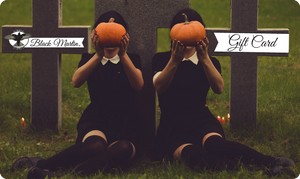 Gift Cards Available
Not sure what to get someone you "love"? Get them a gift card to BlackMartin.shop! Gift cards arrive via email and you can use the code on anything in our shop.
Get a Gift Card